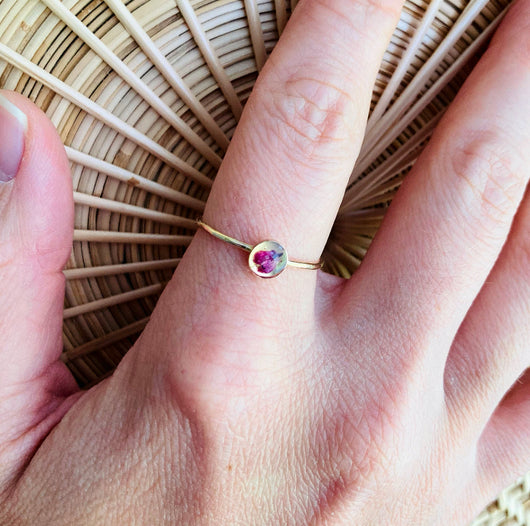 Petal Press Ring
Regular price $60.00 Sale
**This product is pre-order only & can take up to 10 weeks to complete. It is gold-filled and true to size. Please be sure of your ring size before ordering, because we cannot refund or exchange if the size is wrong.
The "cup" for the flower is 5mm, so only the tiniest bits of flowers will be used for this piece. Bigger flowers will be turned into "petal confetti" to be preserved in this ring. Please specify your preference on color per ring in "notes" section.
Petal Press Pendants are a unique way to preserve flowers or greenery from any special occasion (wedding, baby, funeral, anniversary, etc). These pressed flower pendants are a collaboration between two Lafayette artists: Mia Sapienza with M Collectives (mcollectives.com) & Arrie Broussard with Petal Press Decor ( petalpressdecor.com ). Each pendant is a custom, hand-made design that perfectly preserves the flowers and greenery in resin. Flowers can be given to us fresh OR dried, making these the sweetest keepsake for you and your loved ones!
Chain length: 16"-18" dainty gold-filled necklace
Pressed flowers sealed with resin
A custom piece (used from flowers you give us)
PLEASE NOTE: Each piece is made based on a first-order, first-make basis. Most orders are completed within 1-2 months of us receiving your order for press time allowance (subject to change based on demand). IF you need to rush your order for any reason, please make a note at checkout. We will do our best to accommodate your needs. Due to flowers being a natural product, please keep in mind that colors may change or fade over time. 
We will design each pendant in a way that looks best with the flowers/greenery given to us unless given specific instructions by the customer

If interested in 

local drop-off and pick-up

 (Lafayette, Louisiana), please make a note in checkout under 'Note to Seller' of a few dates and times that work best for you. We will do our best to accommodate your schedule. If interested in 

shipping

 your flowers to us, please email 

petalpressdecor@gmail.com

 for further instructions.