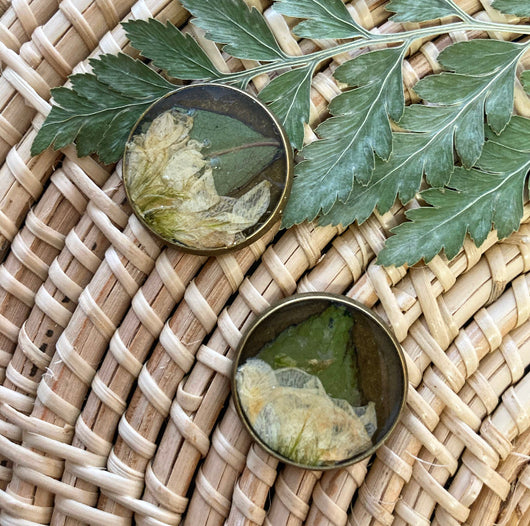 Petal Press Coin
Regular price $50.00 Sale
The Petal Press coin is the perfect gift for a man or anyone who doesn't wear jewelry. It's the perfect sized token to keep on you to always remember a special person or moment. The coin is 20mm wide.

Petal Press Pendants are a unique way to preserve flowers or greenery from any special occasion (wedding, baby, funeral, anniversary, etc). These pressed flower pendants are a collaboration between two Lafayette artists: Mia Sapienza with M Collectives & Arrie Broussard with Petal Press Decor ( petalpressdecor.com ). Each pendant is a custom, hand-made design that perfectly preserves the flowers and greenery in resin. Flowers can be given to us fresh OR dried, making these the sweetest keepsake for you and your loved ones!
PLEASE NOTE: Each piece is made based on a first-order, first-make basis. Most orders are completed within 1-2 months of us receiving your order for press time allowance (subject to change based on demand). IF you need to rush your order for any reason, please make a note at checkout. We will do our best to accommodate your needs. Due to flowers being a natural product, please keep in mind that colors may change or fade over time.
We will design each pendant in a way that looks best with the flowers/greenery given to us unless given specific instructions by the customer

If interested in

local drop-off and pick-up

(Lafayette, Louisiana), please make a note in checkout under 'Note to Seller' of a few dates and times that work best for you. We will do our best to accommodate your schedule. If interested in

shipping

your flowers to us, please email

petalpressdecor@gmail.com

for further instructions.
How to Hang your Flowers:

 I'm starting to suggest the hanging process a bit differently in order to ensure the flowers stay in the best shape possible. Because bouquets are so full and tightly packed, mold is always a concern. I suggest taking the flowers out of the bouquet and hanging them either one-by-one or in bunches (no more than 3 flowers per bunch) upside down from a regular clothes hanger to dry until you can get them to me. You can do this by taking the bouquet apart, or cutting the flowers out of the bouquet and leaving at least half of the stem attached to the flower bud. The additional greenery and sprigs should also be hung upside down to keep them straight and dry. 
Do not leave them in water. If your bouquet has already been dried for months/years, that's fine too!